Dash to Disney Returns to WW Health!
Western Wisconsin Health is excited to announce the return of Dash to Disney, a community wellness challenge. This family friendly 8-week walking challenge will run from Monday, January 7 through Sunday, March 3, 2019. There will be a kick-off event held on January 7 at Western Wisconsin Health and a finale event held on March 5 at the Baldwin-Woodville High School.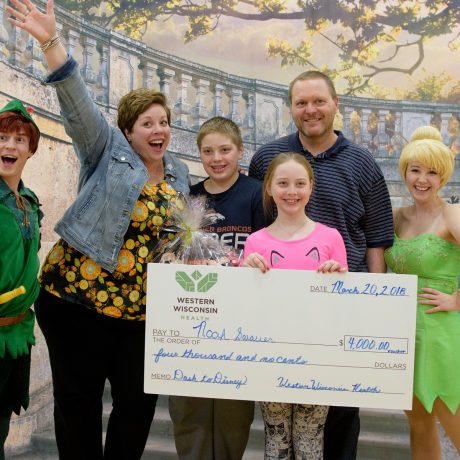 Participants (ages 5 and up) will work together to achieve one goal: walking to Disney World! Throughout the challenge, participants will virtually step to Walt Disney World as many times as possible in 8 weeks. If participants complete all 8 weeks of the challenge, they will be entered into a drawing to win a TRIP TO DISNEY WORLD!! With the cost of just $5 per person to participate in the challenge, the chance to win this magical family vacation is priceless! New this year, we are also offering a corporate challenge!
The trip giveaway will be held at our Finale Event on March 5, 2019 at the Baldwin-Woodville High School. Registered participants that have completed the challenge must be present to win. The grand prize trip will be received as a travel voucher that must be used toward a Disney destination. The voucher includes airfare and hotel. The winning name will be drawn from completed registered participants.
Curious about last year's winner and how it impacted his family? Here's what his mother and local school teacher, Jennifer Sarauer, had to say about their Dash to Disney experience: "Our Disney trip was flawless! We can't thank Mandy Kusilek at Travel Leaders enough for helping us plan our trip. She answered all of our questions, gave us suggestions, and got back to us right away when we needed help.
Our flight was great….a first for the kids. We arrived around 11 a.m. We spent the rest of the day at Disney Springs shopping and exploring. That evening, we ate at Chef Mickey's where we got to meet the characters.
We spent 1 day at each Disney park. We arrived before the gates opened in the morning and left the parks after they closed. According to our FitBit's we walked about 10 miles each day!! We rode all of the rides the kids wanted to. The bigger they were, the more they loved them! We also had the dining plan which included 1 small meal and sit down meal, and 2 snacks per day. We were very happy with this decision. We had 3 character meals and 1 princess lunch. The kids got pictures and autographs from them all. We are also so glad we got the photo pass package. We didn't have to ask anyone to take our family pictures, because there was a photographer at certain destination throughout Disney that did. We then just had to have our Magic Band scanned and they went right to our file. It was awesome and we got around 300 pics and videos!
We stayed at the Pop Century Hotel. We had a small room, but it was very nice and clean. It was fine because we never had the chance to hang out in our room. We were only there to sleep. We used the park transportation system which was great!
We had the most wonderful time and it is a trip we will all remember!! We want to thank you so much for giving us this opportunity. My favorite quote from my 13 year old son when we walked into Magic Kingdom for the first time was, 'I just can't help but smile!' It is definitely the most happy place on earth!!"
Register TODAY!
Online at wwhealth.org
Call 715-684-1645
Email Community.Wellness@wwhealth.org
In person at the kick-off event
For more information or to register, please visit wwhealth.org.