Clint Semrau, DO, FACS
General Surgeon
Surgical Services, Vein Clinic, Wound Care, Heartburn Clinic
Years of Experience

7

Gender

Evening / Weekend Appts.

yes
Dr. Semrau attended medical school at Des Moines University and did his internship in Lancaster, Pennsylvania at the Heart of Lancaster Regional Medical Center. He completed his General Surgery residency at Pontiac Osteopathic Hospital in Pontiac, Michigan. Dr. Semrau is a fellow of the American College of Surgeons and the American College of Osteopathic Surgeons.  He is trained in General Surgery with a special interest in minimally invasive/laparoscopic surgery, varicose vein removal, and surgical treatment for Acid Reflux/GERD.
Education and Experiencekeyboard_arrow_down
Doctor of Osteopathy
Des Moines University, Des Moines, IA
Internship
Heart of Lancaster Regional Medical Center, Lititz, PA
Residency
General Surgery – Pontiac Osteopathic Hospital, Pontiac, MI
Certification
American Osteopathic Board of Surgery
Professional Interestskeyboard_arrow_down
General Surgery
Minimally Invasive/Laparoscopic Surgery
Colonoscopies
Wound Care
Surgical Treatment Options for GERD and Varicose Veins
Patient Satisfaction Scoreskeyboard_arrow_down
At Western Wisconsin Health, our goal is to give you the best possible medical care. We are committed to meeting and preferably exceeding your expectations. Below you can see how 82 surveyed patients rate Dr. Semrau and the services he provides.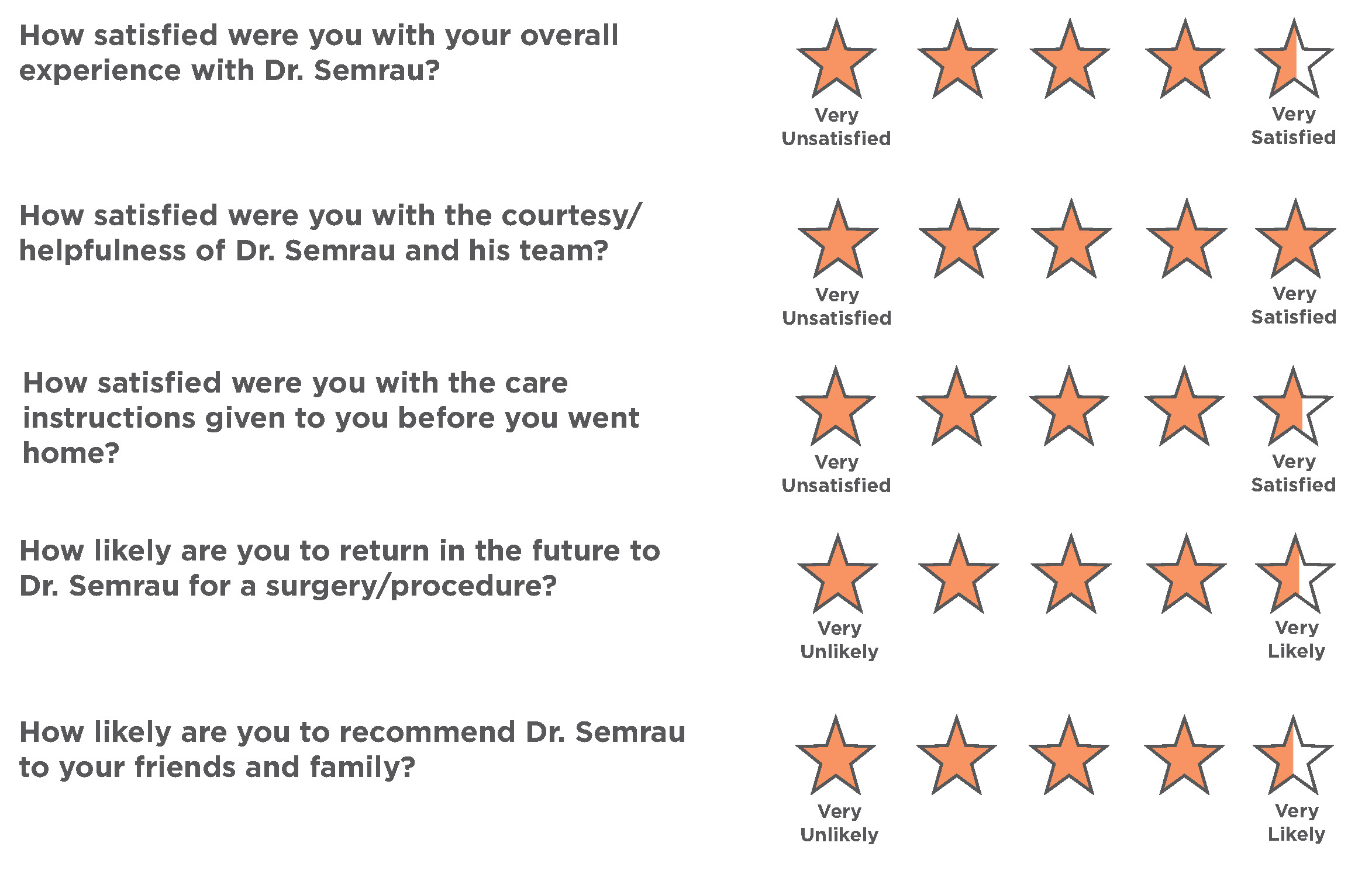 Testimonialskeyboard_arrow_down
"Dr. Semrau is the BEST. Staff excellent."
"Everything, and I mean everything was the very best! Thank you."
"My experience was much better than I expected."
"Very helpful & kind."
"Each staff member introduced themselves and inquired about questions I had."
"Explained everything they were going to do and people were just as nice as they could be."
"All the staff were very nice & comforting. Greatly appreciated it."