Second Year of Dash to Disney Complete!
Western Wisconsin Health held the Dash to Disney finale event on Tuesday, March 5, 2019 to finish their second family-friendly community walking challenge and awarded another lucky participant a trip to Disney World. We initially registered 618 participants by January 7. A total of 450 participants completed the challenge – even more than last year! The previous year's winner and his family also attended the event to share their experience and help present the grand prize alongside several beautiful princesses from Occasions with Character.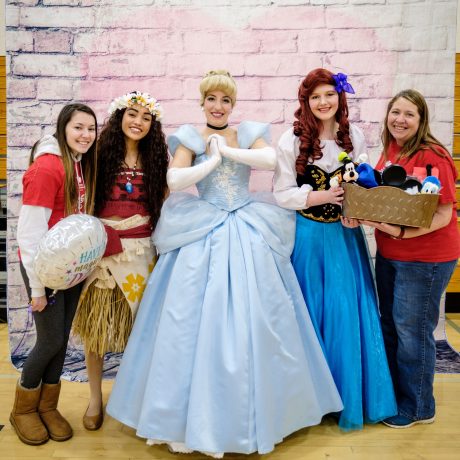 Prize winners included:
Grand Prize Trip to Disney – Melissa Heath
Mall of America Prize Package (Donated by Thunder Country) – McKinley Olson
Water Craft Rental Gift Certificates (Donated by Glen Hills County Park) – Mark Mikla, Alana Faas, and Peggy Newton
Photography Gift Certificate (Donated by Suzanne Wynveen Photography) – Sarah Chevalier
Fitness Center Gift Certificate, Guest Passes, and Swag Bag (Donated by WWH) – Charles Smith
Integrative Health Gift Certificate and Swag Bag (Donated by WWH) – Callie Haugen
Participants of the Dash to Disney challenge worked together to achieve one goal: walking to Disney World! Throughout the challenge, participants (ages 5 and up) virtually stepped to see how many times the group could travel to Walt Disney World. Alexis Warzon, a personal trainer at WW Health, tracked the progress along the way and provided location updates, healthy recipes, motivation, and health and fitness tips. A Facebook group was also created for members to share their experiences and encourage one another. Total, participants accumulated 244,394,912 steps during the 8-week challenge, with an average of approximately 30,500,000 steps per week. This is approximately 122,197.5 MILES and a total of 40 round trips to Disney World!
New this year, WWH offered a corporate challenge. Participants continued to track their steps as individuals each week and WWH kept track of the average weekly steps per business. Each company was also encouraged to create their own internal challenge to motivate their employees. The company with the most cumulative steps average over the 8 weeks received a plaque to display at their business. Participants included Western Wisconsin Health, St. Croix Electric, Baldwin-Woodville School District, First Bank of Baldwin, and Village Pharmacy. The winner of the corporate wellness challenge was First Bank of Baldwin with 76,324 average weekly steps.
"We are overwhelmed with the amount of excitement and enthusiasm displayed by community members and families throughout this challenge," said Natasha Ward, Director of Community Health Improvement. "The addition of the corporate challenge was a nice opportunity for local businesses to encourage employees to be active during the winter months."
"To Infinity & Beyond" Sponsors: Bridge Investment Group, Travel Leaders and Thunder Country
"Tale as old as Time" Sponsors: St. Croix County Wisconsin, Suzanne Wynveen Photography and WESTconsin Credit Union
"Hakuna Matata" Sponsors: Adoray Home Health & Hospice, American Family Insurance, Blackhawk Garage Door, Bremer Bank, First Bank of Baldwin, Homestead Veterinary Clinic, Mocha Café on Main and Nilssen's
For more information about wellness opportunities at WW Health, please visit wwhealth.org.