A Healthier Tomorrow – A Dose of Reality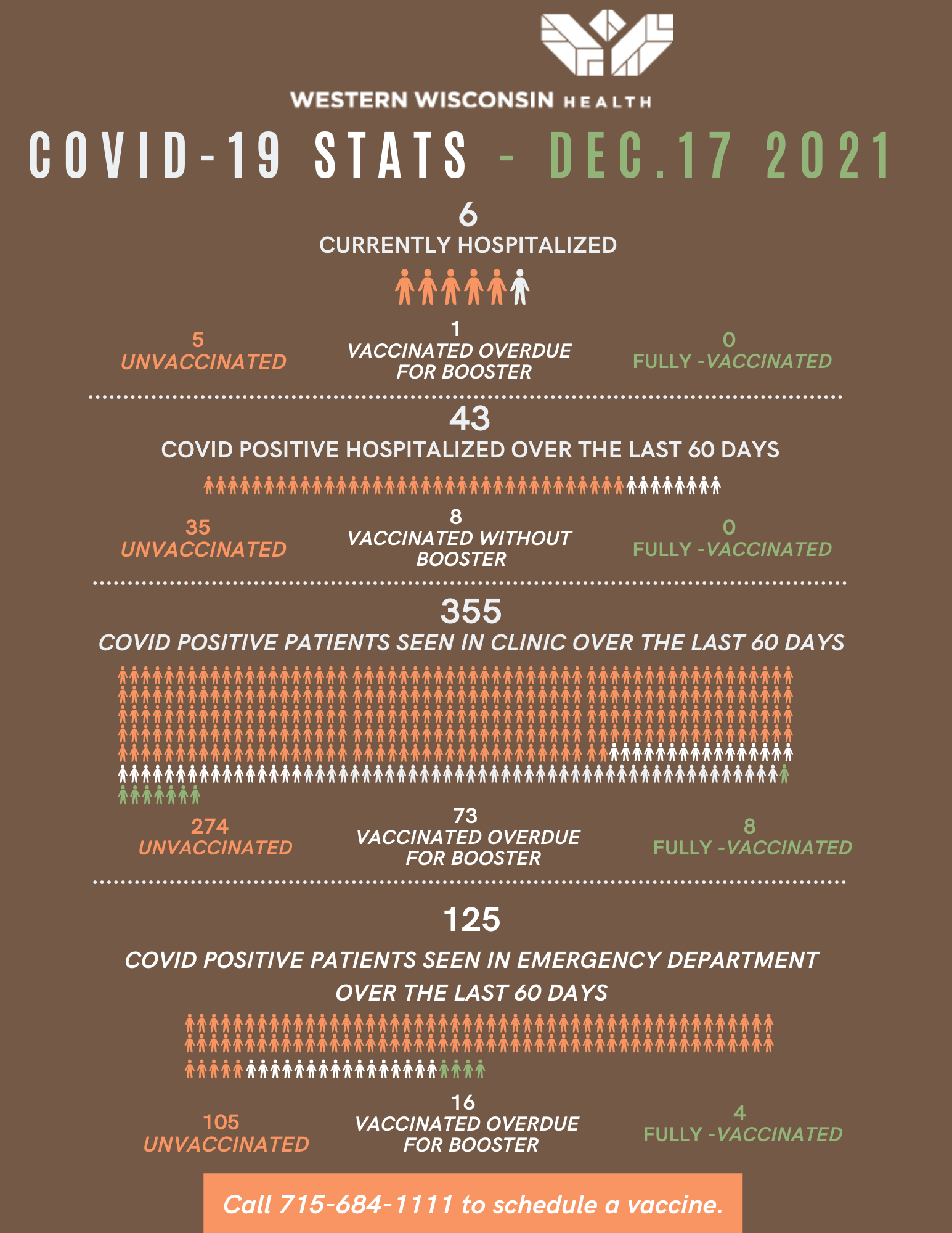 Imagine a Healthier Tomorrow
By Alison H. Page
Every morning at 8:15 the department leaders at Western Wisconsin Health (WW Health) meet briefly to review what we have going on in terms of patient care needs in our hospital and clinics. We call it the "morning huddle." This is the forum in which we balance our resouces with the care we need to provide for the people of our community. The following is an example of what some of the department reports sound like lately (Note: this is an example. The actual situation changes daily).
Inpatient care: "Current census is 14; of those 10 are COVID positive. All 11 inpatient beds are full. We have one patient on a ventilator and two more with deteriorating conditions. We currently have two additional medical patients in the Birth Center and one boarding in the Emergency Department. We have one physician and three RNs (registered nurses) on duty, one of whom is a traveling nurse, being oriented to our facility. We are short staffed for the night shift, with only one RN available. So far, we have not found any nursing staff who can work the shift." 
Emergency Department (ED): "The ED physician is on today with two RNs, one of whom is a traveling nurse being oriented to our facility. We saw 18 patients in the last 24 hours. We have four patients in the ED now, one of whom is in critical condition and awaiting transfer to a facility with an ICU (Intensive Care Units). We have contacted ICUs in five states to find a bed for this patient with no luck. All ICU beds in the region (Minnesota, Wisconsin, North Dakota, South Dakota and Iowa) are full."
Note to reader: WW Health is a small, rural hospital. Like all small, rural hospitals, we do not have an ICU. Our doctors and nurses are not trained to care for critically ill patients on ventilators. We have engaged doctors with expertise in managing critically ill patients to be available by phone to consult with our hospitalists who are trained in internal medicine. And, our nursing team is leaning in to develop the skills to care for higher acuity patients. 
Surgery: "All non-emergent surgeries that could require an inpatient stay post operatively are canceled. One surgery RN has been reassigned to assist with the delivery of monoclonal antibodies to COVID-19 patients. Another surgery RN will be assigned to provide one-on-one care for the patient who is ventilated. Due to this, same-day surgeries will be prioritized based on need, and proceed on a case-by-case basis, depending on staff availability."
Western Wisconsin Health is seeing very high numbers of patients with COVID-19. 
The following is based on data as of Friday, December 17, 2021:
Over the past sixty days – 43 people have been hospitalized with COVID-19; 35 of them were unvaccinated, 8 were vaccinated but overdue for the booster, and 0 were fully vaccinated (meaning they have received the initial vaccines and the booster).
In the past sixty days – 355 clinic visits were with people testing positive for COVID-19; 274 of those visits were with unvaccinated people, 73 were vaccinated but overdue for the booster, 8 were fully vaccinated. 
In the past sixty days – 125 emergency department visits were with people testing positive for COVID-19; 105 of those visits were with unvaccinated people, 16 were with people who were vaccinated but overdue for the booster, and 4 were with fully vaccinated people.
Currently, the Midwest is in the midst of a delta surge.  The omicron variant is spreading rapidly across the US. And, we are approaching flu season. The bottom line is, this pandemic has strained the operations of health care organizations across the country, and it is straining ours. Every hospital in the region is experiencing similar circumstances. 
Hospitals in the Twin Cities have no space in their ICUs and patients are waiting in the EDs to get into beds as they open up. Leaders from all the major Minnesota health care organizations recently signed a letter to the public basically saying the health system is collapsing under the stress of this pandemic and people may not be able to get the care they need for other conditions (e.g. heart attack, stroke, traumatic injury, etc.). I wish I could say it is going to get better soon, but all predictions are that the worst may lie ahead. 
We continue to provide the following advice to all: 1. Get vaccinated and get the booster as soon as you are eligible. 2. Wear a mask, even if you are vaccinated, and socially distance. 3. If you feel sick or have any symptoms, get tested. 4. Encourage your friends and loved ones to do the same. 
Merry Christmas! Please enjoy the holidays safely.