State-of-the-Art Fitness
Everything You Need To Reach Your Health and Fitness Goals
Beginning Monday, October 5, the Fitness Center will offer new, extended hours:
Monday through Thursday: 5:00 a.m. – 9:00 p.m.
Friday: 5:00 a.m. – 7:00 p.m.

Saturday and Sunday: 8:00 a.m. – 2:00 p.m.
The Western Wisconsin Health Fitness Center is currently open and staffed:
Monday through Thursday: 5:00 a.m. – 7:00 p.m.
Friday: 5:00 a.m. – 4:00 p.m.

Saturday and Sunday: 8:00 a.m. – 12:00 p.m.
The playroom will remain closed until further notice.
Starting July 6, the Therapeutic pool will reopen with extended hours of operation:
Monday, Wednesday: 8:00 a.m. 12:00 p.m. and 1:00 p.m. – 5:30 p.m.
Friday: 8:00 a.m. 12:00 p.m. and 1:00 p.m. – 3:00 p.m.
The pool will be limited to 6 people at a time.

Please call 715-684-1642 to reserve or cancel your appointment.
We want to thank all our members for helping us with our efforts of keeping our friends, family, and community safe and healthy. Thank you for washing down your equipment before and after use. Thank you for wearing your masks. Thank you for respecting social distancing efforts. And thank you for being great members here at WWH Fitness Center.

We have made a few changes to our previous guidelines and have started Phase II of reopening our Fitness Center.

Phase II includes:

Group Exercise Classes starting Monday June 29.

Les Mills programs tentatively beginning July 6 (official date TBA pending delivery of equipment).

New guidelines for outdoor classes which allow members to exercise outside without a mask.

Zoom Fitness Options.

July 6, the Therapeutic Pool will allow 6 people max.
o Once you are in the water and in your designated area, you will be allowed to remove your mask.
o You will need to call in advanced to schedule a time and reserve your spot.


July 6, we will increase the pool hours on Monday and Wednesday to close at 5:30pm.
Fitness Center Re-opening Guidelines
The spacious 12,800 square foot fitness center is at ground level offering easier access, an abundance of natural light, views to the outdoors, and increased safety and security.
Staffed Hours
Monday through Thursday: 5:00 a.m. – 7:00 p.m.

Friday: 5:00 a.m. – 4:00 p.m.

Saturday and Sunday: 8:00 a.m. – 12:00 p.m. 
Direct Line: 715-684-1642
*Note: While our intention is to always be staffed at the above times, on rare occasions (weather, staff illness) we may be unstaffed with short notice.
Online Wellness Portal

Fitness Center members can visit the Online Wellness Portal to:
Register and purchase for Specialty Group Exercise Classes
View the up-to-date Group Fitness Schedule
Purchase Guest Passes
View order history & past facility visit history
More to Come!
How do I get access to this WWH Fitness Center Online Portal?
A WWH Fitness or Pool Member must receive their unique member number ID (different from the access card number), from the WWH Fitness Center Front Desk. You may do so by calling (715) 684-1642 or by stopping into the Fitness Center during staffed hours.
**You will use this unique member ID number by entering within the 'Sign Up' screen of the online portal**
24/7 Access Facility
The fitness center is available to members with key cards 24 hours a day, 7 days a week. Come in during staffed hours to sign up for a membership and purchase a key card!
Age Requirements

Age 16 and above may utilize the space without any restrictions and may receive 24/7 card access.
Age 12-15 must be accompanied by a Parent/Guardian who is a Member during staffed hours only and have restricted access to certain equipment.
Fitness Center Services and Amenities
Fitness Center Membership Fees
Electronic Fund Transfer Rate
(Paid from checking or savings account on the 15th of each month)
**Please note: You must provide a 30 day notice to stop payment
*Must provide voided check or banking statement
Adult (49 and under)                                                  $38
Senior (50+) and Students                                         $33
Veterans and Active Military                                      $33
Double (2 people, same household)                          $56
Family (3 or more, same household)                         $74
1-Month Membership 
One time payment
Single:                                                                         $50
Double (2 people, same household):                        $75
Family (3 or more, same household):                       $120                
Out of Pocket Rate 
Entire Year Paid for in One Installment
Adult (49 and under)                                                 $32 ($384)
Senior (50+) and Students                                        $29 ($348)
Veterans and Active Military                                     $29 ($348)
Double (2 people, same household)                         $51 ($612)
Family (3 or more, same household)                        $69 ($828)
**Please note: Use of the Therapeutic Pool may be added to any fitness center membership for an additional $15.00 per person, per month.**

Separate Fees
Guest Pass                                                               $10
24/7 Access Card Fee                                            $20
Personal Training: Prices vary, please speak to staff.
Insurance Reimbursement
Frequent Fitness Insurance Programs
Insurance Partnerships
Insurance pays member up to $20 per month if they reach a predetermined number of monthly visits. 
Partnerships include:
Avera
Blue Cross Blue Shield – Minnesota Laborers Health and Welfare Fund Fitness Program
Farm and Fleet
Health Partners
Medica
Medco
MTS
Portico
Preferred One
UCare
Several other specialty insurance companies
Medicare
Silver + Fit and Active + Fit – Free for the member (only need to pay a one-time fee for an access card)
Silver Sneakers – Free for the member (only need to pay a one-time fee for an access card) 
Prime – Free for the member (only need to pay a one-time fee for an access card)
United Health Care
Renew Active – Free for the member (only need to pay a one-time fee for an access card) 
Personal Training
Western Wisconsin Health offers one-on-one or group personal training services. The components of our one-on-one personal and small group trainings are muscular strength, muscular endurance, body composition, cardiovascular endurance, flexibility, power, skill, and speed. No matter which personal training option you choose, be confident we will keep you motivated, accountable, safe and experiencing new challenges. Training sessions are 30- to 45-minutes in length and can be as low as $20 per session depending on the total amount of sessions purchased.  A free one time consult is available to determine which training package is right for you.  Please call 715-684-1642 to schedule your consult or for more information. 
Fitness Classes
All fitness classes are included with a Fitness Center membership. Various programs will be offered periodically throughout the year at an additional cost.
For more information on fitness classes, please call 715-684-1642.
Fitness Studio
The fitness center has a 1,500 square foot fitness studio that is a separate enclosed space so class participants can have the privacy they need to exercise comfortably. This includes a variety of equipment for our members to utilize including spin bikes, aerobic steps and risers, exercise balls, medicine balls, BOSU ball, yoga mats, plyometric boxes and dumbbells to add some variety to your workout!
Group Fitness Classes
Our Group Fitness Classes offer you a new and exciting way to meet your fitness goals:
Work out longer and consistently with an instructor leading the way.
Make fitness fun when you learn new exercises and techniques.
Stay motivated when you work out with other people.
Bring structure and discipline to achieving your goals with a set class schedule.
Meet new people and make new friends.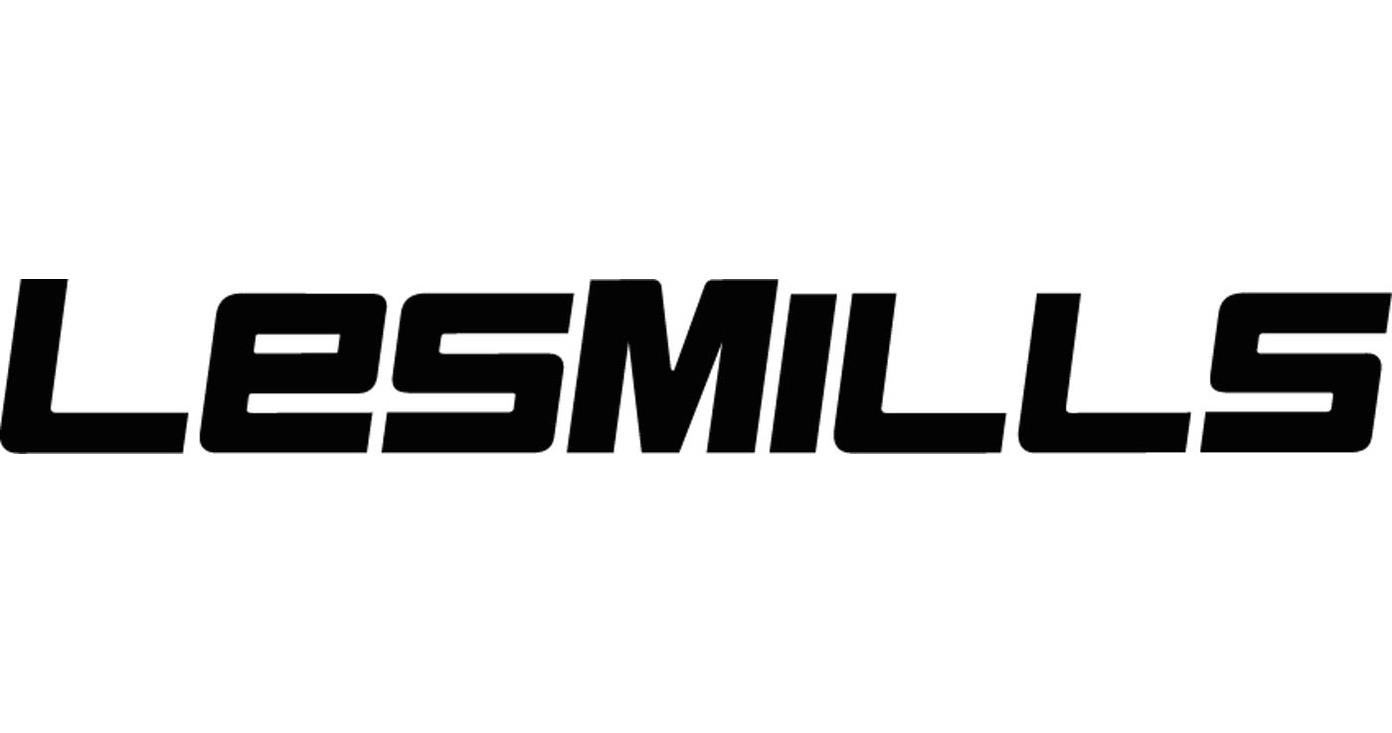 Offered virtually in our studio space on our big screen tv.  See the class schedule for offerings.
Current Class Schedule
Click here for printable version.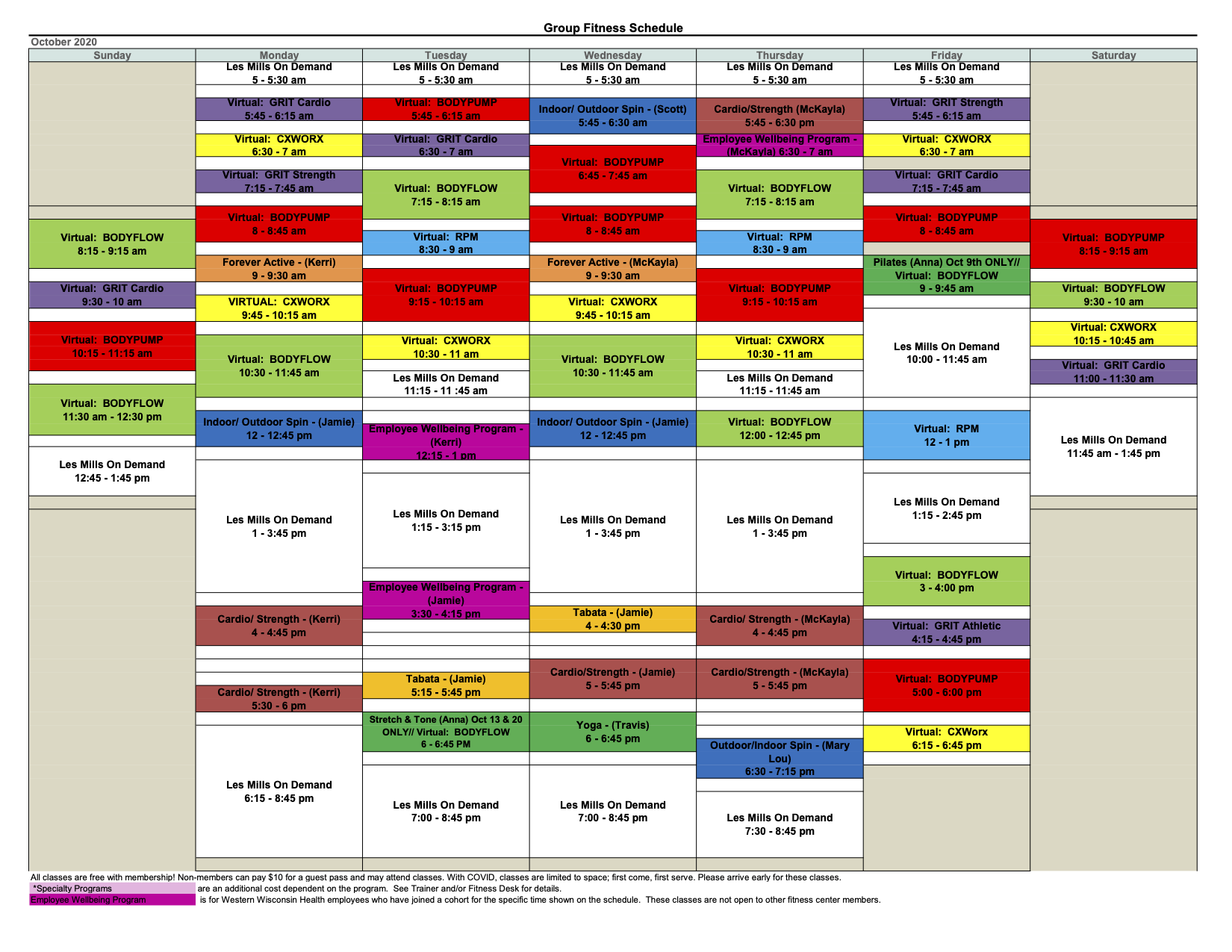 Class Descriptions
LIVE CLASSES
Bootcamp: Offered both indoor and/or outdoor, this class incorporates a variety of strength and cardio to help you sculpt and tone your body–or just stay in shape.
Cardio/Strength: This class works out all areas of the body with a variety of cardio and strength exercises.
Forever Active: This class combines cardio and strength training for those individuals seeking an active lifestyle and a little socialization.
Spin: This indoor cycling class provides training in a variety of terrains–hills, climbs, jumps, and more! With high-intensity intervals, this class will give you an amazing workout.
Tabata: This fitness class will mix your cardio and strength training for a total body workout! Tabata is a form of high-intensity physical training in which very short periods of demanding activity are alternated with shorter periods of rest.
VIRTUAL CLASSES
Body Flow: A motivating blend of yoga with Tai Chi and Pilates which improves your flexibility and increases core strength while you reduce your stress levels. You'll focus your mind and create a lasting sense of wellbeing and calm. Classes are available as 30-, 45- or 50-minute workouts.
Body Pump: An ideal workout for anyone looking to get lean, toned and fit – fast. This full-body barbell workout will burn calories, shape and tone your entire body, increase core strength and improve bone health. Classes are available as 30-, 45- or 50-minute workouts.
CXWORX: 30-minute core training workout that delivers quick results for all fitness levels.
GRIT Cardio; GRIT Strength; or GRIT Athletic: 30-minute High Intensity Interval Training (HIIT) workouts for members looking to take their fitness to the next level. Improve cardio fitness and agility, lean muscle growth, increased calorie burn and fat loss. NOTE: We recommend that GRIT (or any other HIIT classes) be taken no more than two times per week.
RPM: 30- or 50-minute indoor cycling class set to motivating music. Burn calories, get fit and feel euphoric.
PROGRAMS
F.A.S.T. : This is a program geared toward female athletes ages 14+ wanting to take their athletic performance to the next level. Participants will be working with our sports performance trainer to enhance foot speed, strength, power and overall athleticism. Our goal is to get athletes back in shape and strong before their next sports season.
Upcoming Class Schedule
November class schedule coming soon!
Cardio and Strength
A well rounded exercise program consists of three components: flexibility, strength and endurance. The Fitness Center at Western Wisconsin Health is equipped with new cardio and strength equipment throughout the facility to provide you with numerous options to meet the goals of all three components.
Trained exercise instructors will work with you to design and monitor a program that will be enjoyable for you to perform and help you achieve your fitness goals, whether it is to be stronger, more flexible, lose weight, off season sport conditioning or run a marathon.
Strength Training
The benefits of strength training go beyond big muscles. Strong muscles can help you lose weight, protect your joints and back from injury, boost your self esteem and keep you heart healthy. The fitness center has 15 strength training stations and a variety of free weights to help you become and stay strong.
Cardiovascular Exercises
The Fitness Center has a variety of aerobic exercise equipment consisting of treadmills, exercise bikes, elliptical walkers, nu-steps, stair steppers, rowing machines and more. This offers you a wide variety of exercise equipment to avoid boredom with any one exercise, yet help you achieve your fitness goals.
Drop-in Playroom
Due to COVID-19, the playroom will remain closed until further notice.  
Hours
Monday – Friday: 8:00 am – 12:00 pm
Monday – Thursday: 4:00 – 7:00 pm
Saturday – 7:00 – 11:00 am
If we are unable to properly staff the playroom, parents will not be able to utilize it at that time. Every effort will be made to send an email to all parent/guardian members to let them know in advance if we are unable to staff the playroom on any given day.
Rate
Monthly rate of $10/1st child and additional $5 for each additional child after the 1st.
Ask us about our Playroom Member Volunteer program.
Requirements
1 Parent/Guardian must be a fitness center member to utilize the playroom and parents/guardians may not leave the fitness center department at any time while their children are in the playroom.
Age eligibility of Children
8 weeks – 11 years old
Time Limit
75 minutes is the maximum amount of time a child can be in playroom per day. Children will be signed in and out when using the playroom. Parents/guardians who do not return within 75 minutes on more than 1 occasion will forfeit their ability to utilize the playroom for their children.
Restroom Needs
We do not change diapers or help children in the bathroom. We suggest that you have your children visit the restroom prior to checking into the playroom. You will be paged if your child has a dirty diaper or needs to use the restroom.
Other Amenities
The following additional amenities are provided at no extra charge for members:
Lockers
We provide lockers for all our members. Because the number of lockers are limited, they are available on a per visit basis only.
Assisted Changing Room
A private assisted changing room is available for those in need of dressing assistance with a caregiver such as those with special needs and families with young children.
Showers
Showers are provided to all members.
Towel Services
You don't have to carry that wet towel around in your gym bag. Towels are available to members of the pool and fitness center.
Additional Amenities Available at Wester Wisconsin Health:
Therapeutic Pool 
Click here to learn more about the Therapeutic Pool.
Massage Therapy & Acupuncture
Click here to learn more about Integrative Health Services.
Health Coaching
Click here to learn more about Health Coaching.
Nutrition
Click here to learn more about Nutrition.
Matthew Fenske, CPT, CES

Manager of Fitness Center and Wellness Programs

Western Wisconsin Health Fitness Center

McKayla Custer, ACSM-EP

Personal Trainer & Wellness Program Assistant

Western Wisconsin Health Fitness Center

Jamie Stafford, NASM, CPT, ACE

Fitness Instructor & Health Coach

Western Wisconsin Health Fitness Center

Kerri Stiller, CPT

Fitness Instructor

Western Wisconsin Health Fitness Center
What People Are Saying
The staff is very helpful and will answer any questions you may have.

"I joined the Western Wisconsin Health fitness center and have been going five or six times a week. I love the exercise equipment they have – there is something for everyone. There are numerous classes that you can sign up for, plus a swimming pool. The staff is very helpful and will answer any questions you may have."

Betty

Fitness Center Member