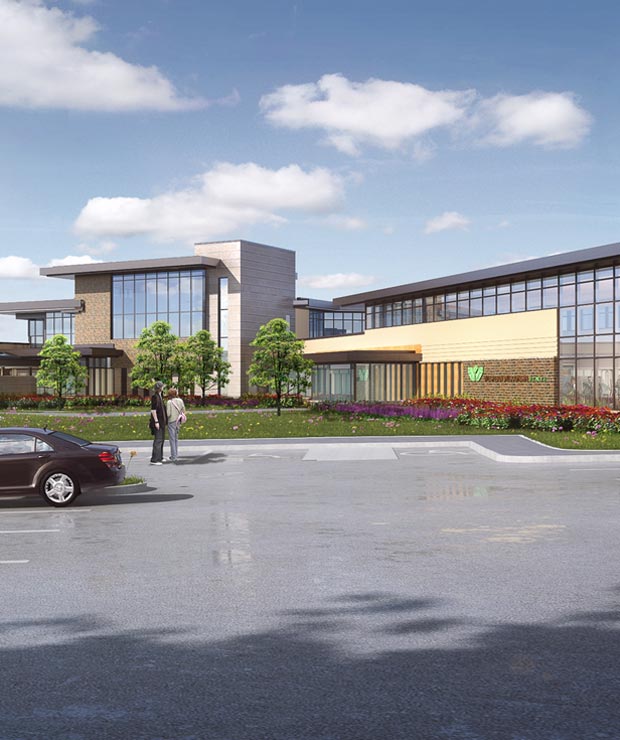 State-of-the-Art Fitness
Everything You Need To Reach Your Health and Fitness Goals
Our existing fitness center located at 730 10th Avenue, will continue to be available to the public while our new fitness center is under construction.  We are pleased to announce our brand new expanded fitness center will open on Monday, March 6, 2017. 
The community is invited to the Fitness Center and Therapeutic Pool Grand Opening Celebration on Thursday, March 2 from 4:00 pm – 7:00 pm. We will have tours of the fitness center and therapeutic pool, healthy appetizers, giveaways, membership sign-up, and much more.
Staffed Hours
Monday – Thursday: 5:15 AM – 7:00 PM
Friday: 5:15 AM – 5:00 PM
Saturday: 8:00 AM – 12:00 PM
Sunday: No Staffed Hours
24/7 Access Facility
Come in during staffed hours to sign up for a membership and purchase a key card!
Fitness Center Membership Fees
Fitness Center Membership Fees keyboard_arrow_down
Electronic Fund Transfer Rate
This option allows you to pay automatically from a checking or savings account on the 1st or 15th of each month.
**Please note: You must provide a 30 day notice to stop payment.  EFT is the only way to pay monthly.**
Adult (49 and under)                                                  $35
Senior (50+) and Students                                         $30
Double (2 people related, same household)              $50
Family (3 or more, same household)                         $65
Out of Pocket Rate
This option allows you to pay for the entire year in one installment.
Adult (49 and under)                                                 $29 ($348)
Senior (50+) and Students                                        $26 ($312)
Double (2 people related, same household)             $45 ($540)
Family (3 or more, same household)                        $60 ($720)
**Please note: Use of the Therapeutic Pool may be added to any fitness center membership for an additional $15.00 per person, per month.**

Separate Fees keyboard_arrow_down
$7       Day Pass
$15     24/7 Access Card Fee
Insurance Reimbursement keyboard_arrow_down
If you have Blue Cross – Blue Shield of Minnesota, Medica, Health Partners, or UCare you may be eligible to receive a $20.00 reimbursement each month.  We also accept Silver & Fit.  Please present your health insurance card for confirmation.
Personal Training keyboard_arrow_down
Western Wisconsin Health now offers one-on-one or group personal training services.  Training sessions are one hour in length and can be as low as $20 per session depending on the total amount of sessions purchased.  A free one time consult is available to determine which training package is right for you.  Please call 715-684-1642 to schedule your consult or for more information. 
Fitness Classes keyboard_arrow_down
Please check out our events calendar for information on current class offerings and pricing. Most classes are included in the membership however, specialty classes such as yoga and TRX are offered at an additional charge.
Scott, CPT

Fitness Center Manager

Melissa, CPT

Fitness Center Assistant Manager

Alexis, CPT

Fitness Instructor

Darcy, CPT

Fitness Instructor
Western Wisconsin Health Fitness Center
Opening March 6, 2017!
The plan for the new fitness center and warm water therapeutic pool features many new amenities that make transitioning to a healthy lifestyle attainable for our entire region. The expanded size of the new facility will allow us to serve more members and patients as well as provide the widest array of fitness classes and wellness programming in our area.
New Fitness Center Amenities
The new 12,800 square foot fitness center space will be at ground level offering easier access, an abundance of natural light, views to the outdoors, and increased safety and security.

Drop-in play room will be available while using the center, for those with young children.

The 1,500 square foot fitness studio will be a separate enclosed space so class participants can have the privacy they need to exercise comfortably.

There will also be a separate equipment storage area so we can add new classes, such as spinning.

An assisted changing room will provide privacy and space for families with young children, seniors in need of dressing assistance, as well as those with special needs.