Financial Assistance Programs
Thank you for choosing Western Wisconsin Health for your healthcare needs– a smart hospital for real people.
This information is designed to help patients understand their application options to receive discounted healthcare services based upon individual financial qualification criteria. We offer two financial assistance programs for our patients. One for clinic services called the Rural Health Clinic Sliding Fee Schedule Discount Program, and the other for hospital services called the Community Care Program.
Rural Health Clinic – Sliding Fee Schedule Program
The Rural Health Clinic Sliding Fee Schedule Program was created to ensure that all clinic patients, regardless of ability to pay, can access medical care. This Program is for clinic services only. The provider professional fees are billed as clinic services, all other ancillary services are considered hospital services and would fall under our Community Care Program.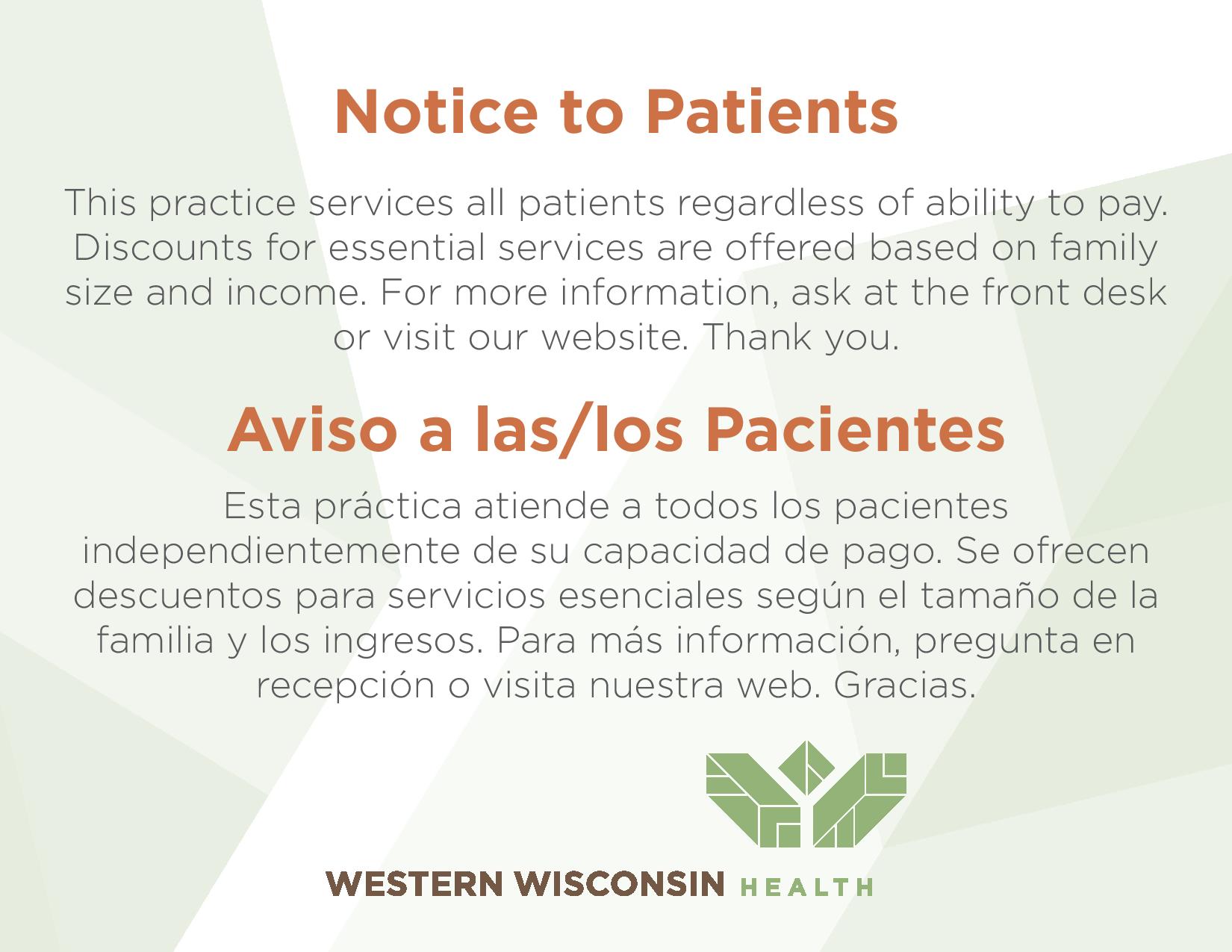 Community Care Program
The Community Care Program was created to ensure that all members of the communities we serve can access essential hospital services, regardless of what they can afford to pay. This program is for hospital-based services.
Discounts offered under our Financial Assistance programs are made available without consideration of race, color, religion, sex, age, national origin, citizenship, veteran status, marital status, handicap/disability, gender, or sexual orientation.
Patients may apply by completing an application that can be obtained from the registration/business office staff, or downloaded from our website here.
Western Wisconsin Health accepts most commercial insurance plans as well as:
Medicaid
Medicare
Children's Health Insurance Program (CHIP)
Who is eligible?
For the Rural Health Clinic Sliding Fee Schedule Program, an individual or family may qualify for a discount if their personal income falls below 400% of the Federal Poverty Guidelines. For the Community Care Program, an individual or family may qualify for a discount if their personal income falls below 300% of the Federal Poverty Guidelines as published annually in the Federal Register.
Financial Assistance eligibility is based upon a combination of family size and income. Gross household income includes, but is not limited to: wages and salaries, income from the state, federal & private sources, Social Security, veteran benefits, alimony and child support, pensions and annuities, Unemployment and Workers Compensation benefits, and income from rental property.
Additionally, if your income exceeds these limits, you may qualify for special discount consideration in the event of an established "special cause" or "catastrophic" situation. Such determinations are made on an individual case basis. All sources of income must have documentation that can be verified; i.e. W-2's, tax returns, check stubs, bank statements. If you are reporting no income at all for the past 12 months, you must provide third-party documentation to substantiate that claim. To be considered for Community Care, it is a requirement to have applied for Medical Assistance within the last three months from the date of the application. You must include a copy of your denial/acceptance letter from Medical Assistance with your completed application.
Community Care is not an insurance program or an entitlement program, and is not meant to replace benefits that are, or could be, received from government-supported programs. Applicants are expected to exhaust all other payment sources as a condition of approval. Applying and/or being approved for Financial Assistance will not affect the quality of your medical care from the medical center or the physician. Applications will be processed once a month.
Do I have to fill out an application every time I come to WWH for health care?
Notice of acceptance for Financial Assistance covers only a specific point in time and is not a blanket approval for future services. A patient may pre-qualify future services when specified with the application. Patients must contact the Billing Office and re-apply with each new medically necessary service they wish to have covered. Applications for financial assistance can be obtained by contacting the billing office at Western Wisconsin Health, or by visiting our website at wwhealth.org.
Can I appeal a denial of my application?
Any patient who is denied under the Financial Assistance Programs has the right to have the initial determination reviewed. Please send your written appeal request to the Business Services Manager. Your appeal will be processed and you will be notified of the final determination from that review. The Financial Assistance Program will be applied consistently and equitably.
Financial Assistance Fee Schedule – 2023
Poverty Level
100%
200%
300%
350%
400%
Discount
100% – Both
100% – Both
80% – Clinic Only

50% – Hospital

60% – Clinic Only

0% – Hospital

40% – Clinic Only

0% – Hospital

Family Size
Income
1
$ 14,580
$ 29,160
$ 43,740
$  51,030
$ 58,320
2
$ 19,720
$ 39,440
$ 59,160
$ 69,020
$ 78,880
3
$ 24,860
$ 49,720
$ 74,580
$ 87,010
$ 99,440
4
$ 30,000
$ 60,000
$ 90,000
$ 105,000
$ 120,000
5
$ 35,140
$ 70,280
$ 105,420
$ 122,990
$ 140,560
6
$ 40,280
$ 80,560
$ 120,840
$ 140,980
$ 161,120
7
$ 45,420
$ 90,840
$ 136,260
$ 158,970
$ 181,680
8
$ 50,560
$ 101,120
$ 151,680
$ 176,960
$ 202,240
9
$55,700
$111,400
$167,100
$ 194,950
$222,800
(The Federal Poverty Level Guidelines for 2023)
Help When You Need It
Our Financial Assistance Program is designed to make sure all patients have access to medical care, regardless of their ability to pay. To apply for our Financial Assistance Programs, call the Billing Office at 715-684-1565, or download the application from our website using the link below, or mail your request to the Billing Office at:
Western Wisconsin Health
1100 Bergslien Street
Baldwin, WI 54002
Financial Assistance Discount Application