New Labor Sling at the WW Health Birth Center
Western Wisconsin Health is pleased to announce that we are now offering labor sling use as a comfort measure during labor.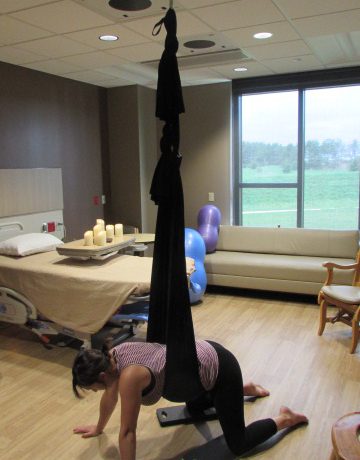 At the WW Health Birth Center, we strive to keep laboring mothers as comfortable as possible during labor. Our team works hard to give families the best birth experience possible and fulfill each unique birth plan. This includes offering a variety of resources to naturally ease the process of labor. The birthing sling is the newest addition to the comfort tools available to patients.
Benefits may include:
Natural pain relief
Shorter labor
Reduced risk of medical interventions
Reduced risk of c-section birth
"We believe women should be empowered with choices and options to create the safe birth experience they desire," said Stephanie Johnson, Chief Nursing Officer. "The labor sling is an amazing tool to assist laboring women to be comfortably supported in a variety of positions. This promotes the labor process and optimal baby position for birth."
WW Health also recently welcomed two new midwives to our women's health team. Certified Nurse Midwives Krista Cleary and Karli Rae Kerrschneider began seeing patients in May. Krista takes a special interest in providing care during pregnancy, labor, birth and postpartum, as well as routine reproductive health and contraception. Karli Rae takes a special interest in adolescent health education, breastfeeding and lactation support, and pregnancy after miscarriage or infant loss.
To learn about our Birth Center, providers, labor options and more, please visit us online at wwhealth.org. To schedule an appointment, please call our 24-hour appointment line at 715-684-1111. You can reach the Western Wisconsin Health Birth Center directly at 715-684-1455.